home | about | updates | contact | club | commission info
---
Hey, I'm Judas! I've been drawing since I could hold a pencil but regarded art as a solo activity and manic outlet until I started posting work online in 2004. The novelty never wore off and the ability to show anything to anyone without having to rely on traditional routes of exposure has been an amazing experience!
I create ✦ LOWBROW POP SURREALISM & OUTSIDER ART ✦.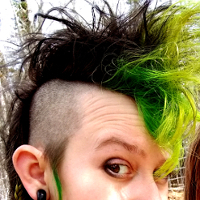 I work outside the realms of classical or "highbrow" and mainstream art. I don't have an interest in critique or creating to anyone's standards but my own. Which is not to say I'm not constantly improving or evolving as an artist, I just don't believe in sacrificing freedom of expression to appeal to arbitrary standards.
I'm completely self-taught and work in a variety of traditional art mediums including, pencil, pen, marker, acrylic, watercolour, oil, chalk pastel, clay, silicone, resin, fiber, textiles, and also write fiction. My other passion and where most of my resources go is my 10 acre homestead in Northern Minnesota; Rat Farm. I blog about my experiences and write a beginner's guide to homesteading and frugal survival with an emphasis on small scale projects and preparedness. My practical skills include organic gardening, animal husbandry, butchering, dairy/cheesmaking, tanning, woodworking, canning, candle making, wool processing, and making cold process/lye soap.
To say I love art is an understatement; it's an inherent part of who I am! I archive everything I make here with no charges, memberships, or crowd funding quotas. Simply put, I don't feel comfortable hiding my work behind a financial barrier.
While it does cost money to produce my work, I'd much rather sell something I make than take a handout. I am slowly making available printed products and originals for sale to offset my yearly costs of site hosting and PO Box fees of about $150. Although I may spend upwards of $1,000 a year on supplies and materials (depending on how ambitious my projects are) I generally stick to what I can afford to produce, mostly filling sketchbooks. I do accept donations (info below) and they are greatly appreciated, but in no way required to enjoy my art or keep it online. I fund my farm and art with outside jobs to remove the stress having to make my hobbies profitable.
---
9/4/18: Major overhaul of all Moleskine galleries underway: new scans and a few hundred pages of never-seen content to be posted!
9/3/18: Various site upates now live, including floating home buttons on text heavy pages, new farm page, updated info page. Home page modified for mobile portrait orientation.
Past Updates
---
general correspondence: rev_judas@wingsofjudas.com
commission inquiries: commissions@wingsofjudas.com

Wingsofjudas
PO Box 3070
Duluth, Minnesota 55803
USA

Buy my products from:
Etsy | Redbubble | Spoonflower
Find me on:
Instagram | TShirtSlayer | Last FM

LIKE WHAT I DO? SUPPORT MY PROJECTS BY JOINING THE CLUB!
Or donate with Paypal: <! --Note: This is where the donation button starts-->

<! --donation button ends-->
---
The official Wingsofjudas Mail Club is here!

Support my projects and every month you'll recieve a newsletter and surprise such as an original drawing, sticker, patch, resin figure, zine, etc. Plus the occassional item from the Rat Farm homestead and penpal goodies.

Limited quanitity available to ensure quality and timely delivery. <! --Note: This is where payment button starts-->

<! --button ends-->
---
By purchasing a commission from me you agree to the following:

It is the responsibility of the client to become familiar with my policies and seek clarification via email if necessary. Commissions are for the purchase of physical artwork, I retain all rights to my work, including printing and display rights. Commissions are for private use only and they cannot be reproduced or sold for profit. Edits and reproductions for personal use are within the rights of the commissioner. Reposting online by the client is fine with credit and/or a link back to wingsofjudas.com (or to a corresponding profile, such as 'wingsofjudas' on DeviantART). My prices reflect personal commissions, please email me to discuss commercial work and the purchase of reproduction rights. The legality of purchasing mature-themed art is the responsibility of the client.

I do not begin a commission until paid in full and accept Paypal or postal money orders (at a 10% discount). Turnaround is currently 1-2 months from time of payment. Shipping is through US Post, the price is included in 2d art which is sent First Class, 3d art is mailed Priority. Graphite sketches are sealed to prevent smudging, badges and bookmarks are laminated, everything else comes in a protective sleeve with cardboard backing. I am not responsible for replacement or refunds of artwork lost or damaged during shipping without delivery confirmation (tracking) and insurance, available upon request.

I draw a variety of subjects in a G through X rating, barring certain content. Details to be discussed through email only. I do not draw copyrighted characters without permission, nor do I replicate other artists' styles. My characters may be included at no additional cost, dependent upon my discretion. Preview sketches allow for one free revision. Additional modifications are $15. Once a sketch is approved by the client it is finished and no additional changes will be made. Some commissions do not include previews or revisions, such as badges, bookmarks, art cards, and low-priced promotions. Include only information necessary to render your commission. I'm flexible with content and details and can work with as much or as little as you give me. Be familiar with my drawing style and limitations through my work and commission examples prior to purchasing a commission.

Although I sincerely appreciate the business of my clients, I must keep relationships professional. I do not role play, make "small talk", or discuss my personal life with clients, nor will I discuss business outside of the designated email. This is for your benefit as the client as much as mine as it eats into my limited work time and muddles the correspondence I rely on to complete your commissions.

I reserve the right to cancel a commission at any time for any reason. If I cancel a commission it will be refunded in full. If a client cancels a paid commission, I will refund for the unfinished portion of the work and the commissioner will receive whatever portion was completed at the time of cancellation.

Commercial Work Information

The purchase of my work for commercial use includes the physical art as well as reproduction rights and does not follow my private commission rates. I sell the piece(s) with unlimited reproduction rights for a one time payment, required up front, in full, before beginning any work. I retain the right to display commercial pieces as examples of my professional work.

Please email me to discuss further.

Price List

Art Card (mixed media on brown paper, 2.5x3.5"): $25
Bookmark (mixed media on brown paper, roughly 2.5x6" laminated): $25
Sketches/Doodle Pages (graphite, some pen/limited colours, white or brown paper, 8.5x11"): $30
Refined Graphite (graphite on white paper, 8.5x11"): $50
Illustration (mixed media on brown paper or b&w, 8.5x11"): $100
Comic Page (mixed media on brown paper or b&w, 8.5x11"): $75

Shipping: $3 US, $5 worldwide
Delivery confirmation/tracking: $1

Discounts: 10% off Postal Money Orders, ask about Returning Customer Specials

I will consider bartering art for certain items. Feel free to inquire!

Status

Commissions are OPEN! I am currently offering limited slots for commission work for specific styles and specials! Check out my Instagram for examples/prices as well as new and old originals for sale!

I am interested in doing paid published work and commercial opportunities, please contact me.

Trades are CLOSED! With exceptions for close friends, as time allows.

Work Queue


Last update: 11/15/17

Commissions

CURRENT SPECIALS: $15 marker "Art Journal-style" or $30 mixed media "Art Journal-style", 10 slots available. Pay to reserve.

1. Alex - needs scan
2. Followorionhome - sketching
3. Mat Resist - waiting for details
4. eatcakeanddie - starting next
5. Stjanine (mixed) - sketching
6.
7.
8.
9.
10.

$100 Detailed ink illustrations, only 1 available. Pay in full to reserve.

1.

Art Trades

Friends only, contact me if interested.

*If I owe you anything and you aren't listed above please contact me!